About Hubstaff
Whether businesses are starting up a new team or looking for a better way to manage employees, Hubstaff has everything required to run teams confidently. With the innovative and robust time tracking and task management solution, enterprises can track their team's time with in-depth timesheets, GPS tracking and project management using the tasks module. As employees track time with the lightweight desktop, web, iOS and Android applications, enterprises will be able to monitor their activity with time tracking, optional screenshots and app tracking, mouse and keyboard usage and even on-site time with geofences. Hubstaff allows team leaders to view detailed reports, send client invoices and even pay employees directly based on their work hours and customizable pay rates. With over 30 application integrations like Basecamp, Trello, Asana, Github and Paypal, Hubstaff seamlessly fits in with multiple businesses, meaning users can work without any interference in their day-to-day operations.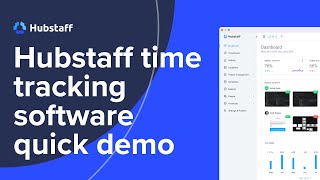 Hubstaff has a free version and offers a free trial. Hubstaff paid version starts at US$7.00/month.
Starting Price:
US$7.00/month
Pricing Details:
Pricing starts at $7/month for 1 user on the simple plan. Bigger packages are available for bigger teams. Premium plans include additional features to the simple plans, like integrations, automatic payroll, app, online timesheets, url tracking and more. Premium plans start at $10/month for 1 user.
Industry: Online Media
Company size: 11-50 Employees
Used

Daily

for

2+ years

Review Source
---
The best Employee Monitoring Software in Market for Remote Employees
It was a great experience, the software is scalable and affordable. It only adds cost upon usage which is critical.
Pros
As a company with lots of employees working remotely for us, we need strong software to monitor employees' performance and act according to the efficiency analysis. Its best feature is idle time management which helps you know if some employee is sitting idle.
Cons
Customer support is delayed a bit. We sometimes faced problems with Windows computers, this is somewhere Hubstaff needs to work it more user-friendly for Windows.
Industry: Computer & Network Security
Company size: 11-50 Employees
Used

Daily

for

2+ years

Review Source
---
Hubstaff App Review
This app, is the best of it's kind and I believe that, I'll use it for a long time.
Pros
The app is very easy to use.
The ability to take screenshot of worker's screen is great.
Very customizable.
I like the fact that it's free for a single user.
Cons
At a point in time, it gives different recorded times. A different time sent via email from the actual recorded times.
Reasons for Choosing Hubstaff
Toggl was not working to my expectations...
Reasons for Switching to Hubstaff
Per reviews, hubstaff was the best so I decided to give it a try.
Response from

Hubstaff

Hello Paul, thank you for providing your input regarding our product.

When it comes to the daily emails that get sent out automatically by our system, there are a couple of reasons to consider for why they can appear to be incorrect.

Firstly, the hours displayed in those emails are always in the organisation's timezone, and not in the member's own one. So, if there is a big time difference between the two, for example organisation having EST (New York) and user CST (Shanghai), then the hours tracked can appear to be incorrect due to the big difference between timezones.

Also, if the user's Hubstaff tracker has not been able to upload all of its tracked data as intended, then the summary report will only display hours tracked and uploaded to our servers at the time of the email being sent out.

We do encourage the usage of the timesheets area to more accurately see the hours worked by the members of your team. On there, information can accurately be seen in both timezones.

Replied 25/04/2022
Industry: Financial Services
Company size: 2-10 Employees
Used

Daily

for

2+ years

Review Source
---
TIme tracking via Hubstaff
Pros
Easy to use. Does not require much from the user, simply enabling it at the start of your shift.
Cons
For what we used it for, and being a smaller sized company I dont think we utilized all of the bells and whistles the software offered (end user issue not software related)
Response from

Hubstaff

Hello Jaime, thank you for taking the time to submit this review of our product. Indeed, Hubstaff does offer a lot of features, some of which may not be applicable at all for some organisations and it may be initially daunting to go through the learning process and set up the organisation to best suit your needs. In the future, if there are doubts about how to make the most of the platform, you can always reach out to our support team at [email protected] Our support team are experts when it making the most of the platform and our live chat team is available 24 hours a day during the weekdays.

Replied 30/05/2022
Industry: Design
Company size: 11-50 Employees
Used

Daily

for

2+ years

Review Source
---
Using Hubstaff for 5 years more. Seem it has improved!
Really just fine. What more should I look for as a freelancer who just need to track time for a project. Then send a a simple invoice at the end. As far as I'm concerned, I have a good experience with the app. If I have to suggest, maybe as a UX/UI Designer, they can enhance the looks an feel of the software to make it more professional and appealing to users.
Pros
Straightforward. Just the thing you need, you'll find it. Pretty much like any other time tracking software - as freelancer it has screen capture, invoicing, offline tracking and all...
Cons
It's just straight forward. Maybe they can add quick chat for client. Instead of additional login to browser when you need to quick communicate with your client.
Response from

Hubstaff

Hey Roldan, thank you for submitting this review for Hubstaff! We are happy to hear that you are enjoying using Hubstaff for your time tracking needs.

We want to continually improve the platform and our offerings, so we do welcome all feedback onboard. Please feel free to go to https://roadmap.hubstaff.com/ and add any ideas for features to be implemented.

Replied 29/03/2022
Industry: Utilities
Company size: 11-50 Employees
Used

Daily

for

1-5 months

Review Source
---
Amazing product and even more amazing support team
Pros
It was a perfect fit for us as we have teams in 3 different locations (all remote) and their tools give us an eagle eye view of everything that is going on.
I used to use a competitor of theirs a few years ago and when I tried out Hubstaff, noticed they are leaps and bounds above them.
Service second to none. Chat 24-7-365, respond in under a minute and 9/10 resolve your issues on the spot.
Cons
Seriously cant think of a flaw at this juncture
Response from

Hubstaff

Hello Amir, thank you for taking the time out of your day, in order to leave us this review.

I just wanted to provide a little correction, to make it clear for other customers, our live chat is available 24 hours a day over the weekdays. We provide support over email during the weekends.

Thank you again for taking the time to leave us this review and we hope you will carry on having a productive and enjoyable experience using the platform.

Replied 6/06/2022