About OriginPro
OriginPro is a cloud-based data analysis and graphing solution, which assists academic institutions, government organizations, non-profits or businesses with data exploration and provides tools for peak fitting, surface fitting, statistics and signal processing. Features include batch processing, peak analysis, project management and surface integration and cluster gadget. The application enables engineers to perform various non-parametric tests such as sign test, Mood's Median test, Kruskal-Wallis ANOVA, Mann-Whitney test and more. Users can create custom graphs of multiple types including piper diagram, means plot, heatmap, correlation plot and image stack profile and save them as templates for future use. Using OriginPro, professionals can perform mathematical operations, interpolation/extrapolation, area calculation, and differentiation and integration. Engineers can also perform multivariate analysis using K-means cluster, hierarchical cluster, discriminant analysis and partial least square tools. OriginPro offers individual or group licensing options for various sectors and extends support via email, call, chat and documentation.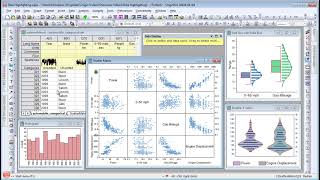 OriginPro does not have a free version but does offer a free trial.
Alternatives to OriginPro
Industry: Education Management
Company size: 51-200 Employees
Used

Daily

for

2+ years

Review Source
---
Statistical treatment and graphics
The Origin Program helped me a lot. I currently save a lot of time in data processing. I have been using the software since 2011 as a master and PhD student. I currently use it as a teacher in higher education, for mathematical modeling, statistical analysis and regression analysis.
Pros
The versatility was the one that most caught the attention of Originpro. It is possible to use it for several tasks, such as advanced calculations, mathematical models for experimental data, statistical calculations, linear and polynomial regression, in addition to plotting the most diverse types of graphs, coming from different sources, such as laboratory equipment. Example, HPLC (High Performance Liquid Chromatography), spectrophotometers (UV-VIS, Infrared).
Cons
With is a powerful tool, you need a basic knowledge of computers to take advantage of its full potential. In addition, it is necessary to know a little about file extensions, such as jpeg (image), pdf (portable document format), and csv (comma-separated text files).
Industry: Research
Company size: 1,001-5,000 Employees
Used

Daily

for

2+ years

Review Source
---
GUI lost its way
I do data plotting and analysis. Anything from 2D graphs to matrices, 3D plots, spectral analysis and fitting.
Pros
Powerful tool included within the options on data analysis and data plot management
Cons
1. Its interface and menus. Origin has grown massively in ways to customize every possible feature on the menu, let it be data fit or plotting. It produced very complicated and difficult to navigate menus with mirriad of tick boxes, fields, sub-options etc. Some of this make process of using software very painful.
2. Milti peak spectral fit of spectra with difficult base lines.
Response from

OriginLab

Hello,

Thank you for the review.
Regarding your comment:
". Multi peak spectral fit of spectra with difficult base lines."
Could you please send us a sample case?

Sincerely,
OriginLab

Replied 7/06/2019
Industry: Research
Company size: 1,001-5,000 Employees
Used

Weekly

for

2+ years

Review Source
---
Last update made nice improvements
Overall it's a good tool, for analysis has a wide variety of options and for plots is pretty decent. Despite having some details is very useful.
Pros
Is by far my favorite software for analysis/ plotting. Basically has a big variety of tools. The regular updates are a nice perk since there is continuous improvements.
Cons
Some functions work in an odd way, specially since it's so standardized to multiselect columns and apply, but for some you need to execute the function in one column and then apply it on all the columns to the right, which sometimes is pretty inconvenient and a waste of time.
Industry: Nanotechnology
Company size: 51-200 Employees
Used

Daily

for

2+ years

Review Source
---
I am an extremely satisfied user of Origin 2017/19! Origin is thoroughly recommended!
I use Origin to plot all types of chemical analysis data. There is usually a considerable amount of data to analyse and Origin allows you to plot and present much much more quickly and clearly than in Excel which has saved me so much time and trouble. The plotted data can be manipulated quickly to allow accurate and timely analysis. Once you have made a template, save it to use next time. Mathematical tools are installed as standard to allow calculations at a touch of a button. The list goes on....
Pros
I was introduced to the software at the start of my PhD (surface chemistry) by a few of my colleagues. They all said I should start using it as it was excellent. They were not wrong! The software is extremely easy to use well right out of the blocks. The presentation of data is truly superb, and frankly makes excel plots look extremely dated. Templates can be made as you work to speed up analysis and presenting. Data can be instantly presented in many types of plots and overlays. Calculations that take a relative age (if at all) in Excel take moments in Origin. As a chemist constantly looking at spectra, one of my favourite Origin features is the zoomed inset, which can be added with one click. I have had questions on occassion, and the Origin IT department respond immediately with the answers. I do still use Excel when I have to, but Origin is now my main data analysis tool. I really cannot say enough for Origin. The software and after service is truly excellent!!!
Cons
When I first installed Origin 2019, it took me 5-10 minutes to install the zoomed inset function ;) Seriously, there is nothing to dislike about Origin.
Industry: Plastics
Company size: Self Employed
Used

Daily

for

2+ years

Review Source
---
Complete graphing program for technical publications
I have been using it for at probably 15 years. I generate about 1000 graphs a year for publication.
Pros
There are many types of graphs you can make. But the best feature is the quality of the output. I use the highest quality images in my manuscripts and this program delivers them. Most my graphs are of a few types, and it is easy to copy and paste new data (I use Excel) right into the graph, then all you have to do is tweet some of the parameters. I often generate a new publication quality image in two minutes or less from and Excel spreadsheet.
Cons
The first time you use a new graphing feature, it may take some time and help references to get it just right.