About NUACOM
NUACOM is a call center and business VoIP solution that helps manage business operations using softphones, IVR, auto-attendant, conferencing room, number porting and more. The centralized platform allows supervisors to maintain wallboard of agents' activities and record inbound and outbound conversations in compliance with GDPR regulations to improve outcomes. Key features of NUACOM include call queue management, analytics, encryption, user localization, performance tracking, and data monitoring. It includes a smart call transfer functionality, which lets employees forward calls to a specific agent or a group and manually or automatically switch calls from desk phones to mobiles. Additionally, the IVR design tool enables administrators to configure greeting messages, menus or call workflows and record crucial data including custom call ID, number-name, phonebook and more. NUACOM uses API and Zapier to integrate with several third-party applications such as Salesforce, Hubspot, Pipedrive, Agile CRM, amoCRM, Streak and more.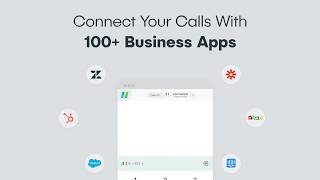 NUACOM does not have a free version and does not offer a free trial. NUACOM paid version starts at €9.99/month.
Starting Price:
€9.99/month
Industry: Marketing & Advertising
Company size: 11–50 Employees
Used

Daily

for

6-12 months

Review Source
---
Great software that I've added to my tech stack to implement in every client I work with
Great experience. It's not every time we come across a tech company that wants to help us to take the most of the tool, following up with us every single day during the first 7 days we decided to go ahead with them. The first day was the initial setup. The second day was just a call to let us know about an automated way to switch closing hours message (as we needed to customize a different message for the Bank Holiday we had in the following week). Everything worked well. We had one situation during the switch that we forgot to set up the call divert from the old system and they noticed we were using their system only with the sales team (outbound). Then, they suggested the call divert so we didn't need to wait the number porting. But in general, the process of switching was fine.
Once you find out about a cloud phone system, you do not want to switch back to those old landline and pbx. Everything nowadays is connected, whether you use a CRM for sales or a helpdesk for support and having this type of system is crucial for automating tasks and improve performance. I will continue recommend NUACOM to all my clients.
Pros
I am a business consultant and have implemented NUACOM system with one of my clients. Our main goal was to improve our sales process, which was strongly related to how we connected to our prospects. Although my background is Marketing, who works in sales knows well that a phone call converts more than emails. So we needed a proper phone system. We chose NUACOM because we could connect it to our Hubspot CRM and track calls and emails in one place. I would also add the call recording feature to the list of reasons we decided to go with them. In terms of pricing, they were very competitive, especially because they offer unlimited calls to mobiles. So for us, it helped a lot to put the sales team to ring every single lead. As the business is in B2C, mobile calls included was a must-have in our purchase process. The setup was very practical and their support team was very helpful. We set everything up in less than an hour. Every time we needed assistance to reconfigure our call flow, their customer service team was available for us.
Cons
It's hard to tell. I'm really pleased with the software. We had a situation that it is actually outside NUACOM's responsibility. As any cloud system, it runs over the broadband and once we had an issue with our internet provider. So we ended up with no internet connection until they restored it 2 days later. After some emails and calls exchanged with the internet provided at that time, we tried to run the business as we could and thanks God our sales team could continue prospecting over the mobile app for inbound and outbound. There was some times the reps were on 3G connection on the mobile so the app were not receiving calls, but actually the GSM of the sales manager (we had set up his number as a backup). But it depends on the mobile coverage, not actually the NUACOM app. We reported this internet issue to NUACOM and Igor recommended using temporarily a 4G modem to at least handle incoming calls in the reception, which we had had an IP phone. But the mobile app was working fine for the sales team, so why not using it for the customer service team as well. After our internet connection was restore again, we contacted them and asked to assist us to bring back the call flow we had before (which was something we could have done by ourselves on the portal). So apart from the internet dependancy, I think the system is great. Also, they often release new features. So if there is a lack of feature at that time we implemented the system, months ago, they may have released them now.
Reasons for Choosing NUACOM
Needed more functionalities at that time, such as CRM integration.
Reasons for Switching to NUACOM
Price and support to implement it.
Industry: Information Technology & Services
Company size: 2–10 Employees
Used

Daily

for

2+ years

Review Source
---
Simple, straightforward, just brilliant!
Pros
The interactive voice features and call playback are really very useful for any small business.
Cons
I don't have any complaints so far, i've had little reason to call tech support!
Reasons for Switching to NUACOM
The technical expertise of the team, the innovative principals of wanting to improve the app for better customer experience.
Industry: Professional Training & Coaching
Company size: 2–10 Employees
Used

Daily

for

1-5 months

Review Source
---
PIssed Off Cancelling Service Due To Too Many Technical Issues & Lack Of Support To Make It...
Frustrating to say the least, I have Sales People that are not located in one office, but all over the world. Almost everyday I had another Sales Person mention a technical issue they had with the software to make calls, this compromised us making productive phone calls.
The installation of the extensions and software are confusing.
The Tech Support is helpful but at times takes way to long to solve a simple issue.
The Tech Support should of prevented the issues from happening, by helping us setup each sales team member, from the beginning which they didn't.
Even after 3 weeks of using it, we had still issues with making calls, calls dialing out but then just dropping out, or smart call function even after installing the extension and software, it would just not dial at all, the quality of the sound at times was very bad and those ore just some of the issues we had.
My experience, I got 1 word for it "Nightmare".
Pros
I spoken last week again with the Consultant and how unhappy I am about the lack of responsiveness to resolve technical issues, some of the issues have been now going on for 3 weeks, and we been going forward and back via email.
We came to the agreement, that on Monday, so today, the Tech Support will be in touch and solve the issues the staff members of mine still have with using nuacom and that I will hear from him again.
I called in, no answer, tonight when I checked with another Sales Team Member, I got the text that he still could not yet make calls using nuacom, which is frustrating him. Not only did I lose out on sales during the 3 weeks because of technical issues that didn't get fixed in time, but I also have now Sales Team Members that can't make productive calls to sell tickets to my event and that are frustrated.
Very unhappy about all of this, and to be honest I really feel that I shouldn't have to pay for a voip service that my team could not use productively for 3 weeks, due to technical issues that needed to be fixed and prevented from occurring, from the nuacom side, which hasn't been done. I told the Consultant from the very beginning my situation, and also told the tech team that my Sales Team is in different locations, so since I got the highest package for each user, they should of made sure that all of it, is functioning with every Sales Person using nuacom with hubspot crm, which has not been done.
I would not recommend this voip service to anyo
Cons
That at first it seemed easy to make use of it and the consultant was very much accommodating with the initial training.
Reasons for Switching to NUACOM
At the time, it seemed like the best choice for value of money and voip service.
Industry: Information Technology & Services
Company size: 2–10 Employees
Used

Daily

for

1-5 months

Review Source
---
Excellence Business Level Service Provider
Excellent team of professionals. Sales was excellent in getting me setup, I spoke with [SENSITIVE CONTENT HIDDEN] at 5pm and the following morning before 10am I was active and up and running, Support was excellent with a complimentary onboarding call to talk me through the phone system and help me configure my IVR, the porting team was excellent with zero issues they brought my numbers over from 3 systems. They answer phones very quickly and you are always dealing with people who know what they are doing (tech staff). Nuacom is possibly my favourite thing of the year 2020, thanks guys for making an otherwise difficult year in business much better :D
Nick,
Owner
Ireland Website Design
[SENSITIVE CONTENT HIDDEN]
Pros
Everything, it is a far superior product and service to competitors on the market.
Cons
None this service and product is excellent.
Industry: Information Technology & Services
Company size: 2–10 Employees
Used

Daily

for

2+ years

Review Source
---
The most flexible system I've ever used
We use Nuacom ourselves and have done for more than 2 years, but we've also recommended and installed this system for many of our customers. One of them has the most complicated menus and queue system I've ever come across, but all the same with a good design it works exactly as they expect and it's very easy to change whenever needed. I work closely with the team at Nuacom and find them to be almost an extension of our own business. They respond when we need them and go out of their way to ensure that our customers get the experience they deserve.
Pros
It can literally do everything I've ever needed it to do.
It works flawlessly.
The call quality is excellent.
The team at Nuacom are superb to work with.
Cons
I really don't have any cons to list, everything has been really good.